New York, NY, October 16th, 2023 — Livento Group's (NUGN) content investment and production arm, Boxo Productions, is thrilled to announce the availability of the action-packed heist thriller, "The Misfits", starring Pierce Brosnan, Tim Roth, and Nick Cannon now streaming on Netflix.
About "The Misfits"
Get ready for an adrenaline-fueled joyride as renowned criminal Richard Pace (Golden Globe nominee Pierce Brosnan) takes the spotlight. Locked within a federal maximum-security prison, Pace's cunning and audacity know no bounds. His daring escape, marked by a high-octane car chase, pits him against the FBI and relentless law enforcement pursuit. However, Richard's fate takes an unexpected turn when he encounters "The Misfits" – a modern-day Robin Hood crew on a mission.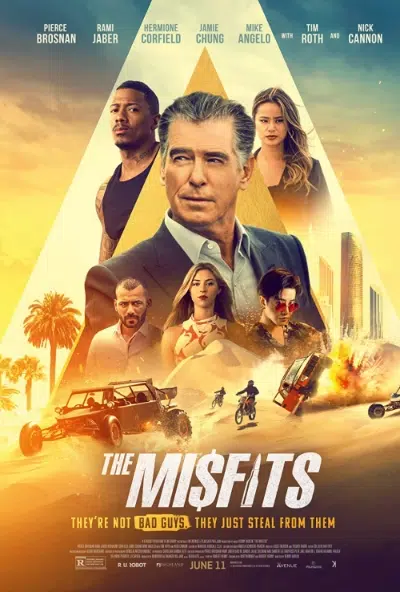 Plot Summary
Not even the most impenetrable of prisons can hold the brilliant international thief, Richard Pace. A daring escape and a heart-pounding car chase lead to his recruitment by "The Misfits." This eclectic band of modern-day heroes, led by the enigmatic Ringo (Nick Cannon), includes Violet (Jamie Chung), the Prince (Rami Jaber), Wick (Mike Angelo), and Pace's own daughter, Hope (Hermione Corfield).
United by a shared moral compass, they embark on the heist of the century: stealing millions in gold bars from one of the world's most secure prisons, under the control of the nefarious Schultz (Tim Roth). This underground empire funds terrorist organizations globally, turning the heist into not just a quest for wealth but also an act of justice. For Pace, it's a chance to settle a personal score with Schultz, the man behind his wrongful imprisonment.
From the vibrant streets of Los Angeles to the exotic landscapes of Abu Dhabi, the mission demands supercharged engines, forged identities, shrewd cons, and even camels. Nitro-fueled and filled with breathtaking explosions, "The Misfits," directed by Renny Harlin (Die Hard 2: Die Harder, Cliffhanger), introduces a new league of outsiders to the world of action-adventure.
Acquisition & Revenue
Boxo Productions secured a 10% ownership stake in "The Misfits" with a $60,000 acquisition of producer equity. The movie is anticipated to generate around $600,000 in revenue for Livento Group over the next decade. At the box office, it achieved an impressive $1.6 million.
About Livento Group, Inc.
Livento Group (OTC: NUGN) is committed to acquiring and developing companies with disruptive business models. The company has recently launched BOXO Productions, a film, and television production subsidiary, helmed by top industry actors and producers. For further information on Livento Group and BOXO Productions, please visit www.liventogroup.com and www.boxoproductions.com.
Safe Harbor Statement
This release contains forward-looking statements within the meaning of the Private Securities Litigation Reform Act of 1995. You can identify these statements as predictions, projections, or references to future events and expectations, possibilities, or similar. Forward-looking statements involve risks and uncertainties that could cause results to differ materially from those projected or anticipated. Although the Company believes the expectations reflected in our forward-looking statements are based on reasonable assumptions, the Company is unable to give any assurance that its expectations will be attained due to several variable factors. Factors or events that could cause actual results to differ may emerge, and it is impossible for the Company to predict all of them. Some of these risks and uncertainties include, but are not limited to, general economic and business conditions, effects of continued geopolitical unrest and regional conflicts, in customer order patterns, changes in consumer trends, and various other factors beyond the Company's control. Although the Company intends to provide public updates, it undertakes no obligation to publicly update any forward-looking statement, whether as a result of new information, future developments or otherwise, except as may be required by law.
For more information, please contact:
David Stybr
Chief Executive Officer, Livento Group, Inc.
[email protected]
PR & Media Contact
Douglas Messer
[email protected]
Livento Group | LinkedIn | Twitter
Boxo Productions | LinkedIn | Twitter | Instagram | Facebook