New York,October 10, 2023 — Livento Group, Inc., formerly known as NuGene International, Inc. (OTC Pink: NUGN), is thrilled to unveil its comprehensive portfolio comprising films, TV shows, movies, and games. Over the past two years, Livento has invested over $30 million in intellectual property, collaborating with a distinguished roster of producers, partners, and content creators.
The portfolio encompasses projects at various development stages, including those in development, set for release, and currently in the market. Remarkably, despite less than 25% of the portfolio being released thus far, Livento has already achieved remarkable results. For instance, one of their films, "The Black Demon," dominated Amazon Prime U.S. as the number one streaming title for five consecutive days last month.
Boxo Productions, an integral component of Livento Group's ecosystem, boasts an expansive portfolio featuring over 50 films, TV shows, documentaries, and games. The company anticipates that the total box office revenues of all its content will surpass $4 billion over the next decade, with an exciting projection of $187 million in future revenue. Boxo Productions acquired equity from producers at various stages, ranging from 1.5% to 20%.
As Livento Group charts its course forward, it actively seeks funding opportunities, offering an enticing prospect for individuals passionate about the world of film and gaming to invest through this publicly traded entity.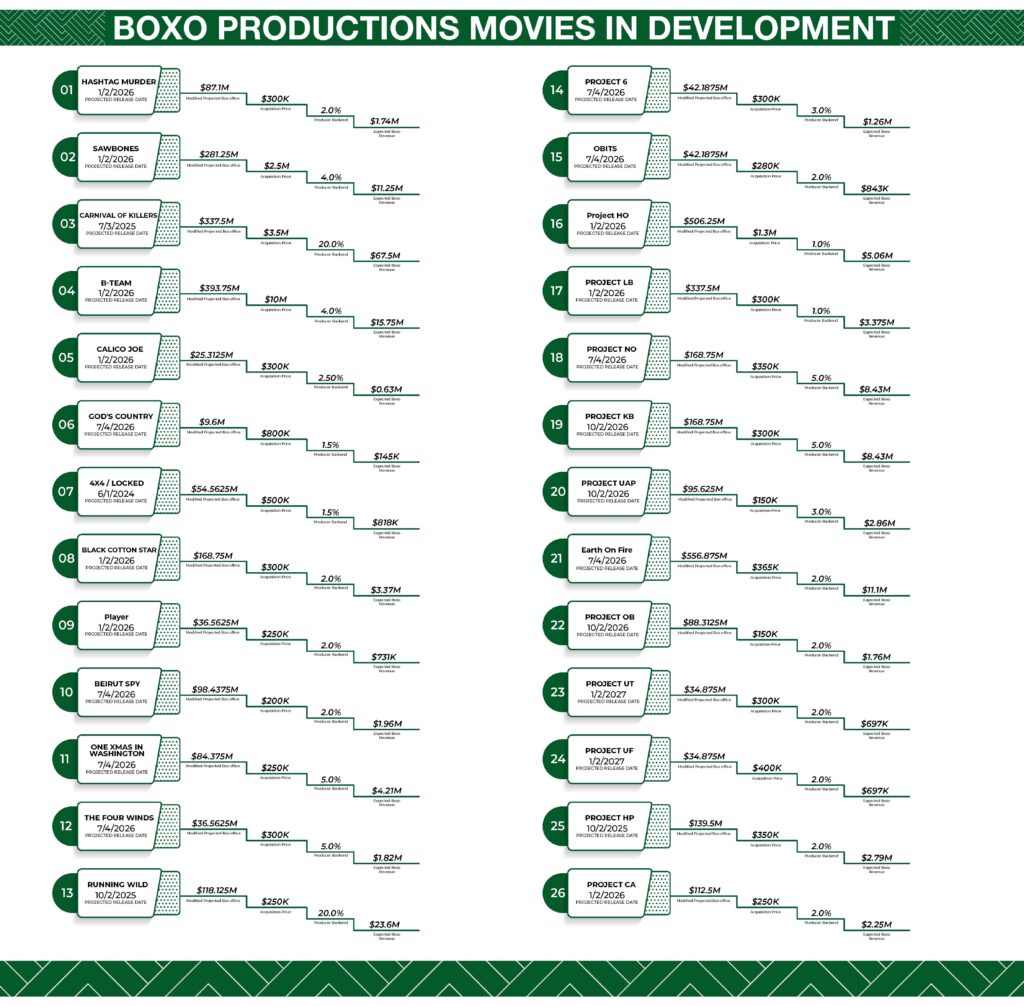 About Livento Group, Inc.
Livento Group (OTC: NUGN) is committed to acquiring and developing companies with disruptive business models. The company has recently launched BOXO Productions, a film, and television production subsidiary, helmed by top industry actors and producers. For further information on Livento Group and BOXO Productions, please visit www.liventogroup.com and www.boxoproductions.com.
Safe Harbor Statement
This release contains forward-looking statements within the meaning of the Private Securities Litigation Reform Act of 1995. You can identify these statements as predictions, projections, or references to future events and expectations, possibilities, or similar. Forward-looking statements involve risks and uncertainties that could cause results to differ materially from those projected or anticipated. Although the Company believes the expectations reflected in our forward-looking statements are based on reasonable assumptions, the Company is unable to give any assurance that its expectations will be attained due to several variable factors. Factors or events that could cause actual results to differ may emerge, and it is impossible for the Company to predict all of them. Some of these risks and uncertainties include, but are not limited to, general economic and business conditions, effects of continued geopolitical unrest and regional conflicts, in customer order patterns, changes in consumer trends, and various other factors beyond the Company's control. Although the Company intends to provide public updates, it undertakes no obligation to publicly update any forward-looking statement, whether as a result of new information, future developments or otherwise, except as may be required by law.
For more information, please contact:
David Stybr
Chief Executive Officer, Livento Group, Inc.
[email protected]
PR & Media Contact
Douglas Messer
[email protected]
Livento Group | LinkedIn | Twitter
Boxo Productions | LinkedIn | Twitter | Instagram | Facebook