Livento Group, Inc. (OTC Pink: NUGN), a dynamic group that specializes in acquiring and developing companies with disruptive business models in film, content, and technology for fund managers, announces significant progress in the listing process for Global Dot Logistics.
Engagement of FINRA-registered Nasdaq broker-dealer partner
Livento acting as advisor, announce on behalf of Global Dot Logistics Inc. ("GDL"), it has established a valuable partnership with a FINRA-registered broker-dealer. This strategic collaboration aims to facilitate the listing of GDL on the Nasdaq stock exchange. To meet the stringent Nasdaq listing requirements, GDL has committed to finalizing two acquisitions that currently generate a combined annual revenue of $38 million. The first acquisition by GDL has already been successfully secured, while the second acquisition is in the final stages of completion subject to due diligence.
The transaction in addition to the professional services provided by Livento, is supported by HTL CPAS & Business Advisors LLC and H. Francis Fytton as Securities attorney.
The initial public offering (IPO) is scheduled for the fourth quarter of 2023. GDL is actively undergoing an audit process to ensure compliance with the necessary requirements set forth by the Securities and Exchange Commission (SEC) and secure a ticker symbol. Additionally, GDL is in the process of initiating the S1 registration process with the SEC to accommodate all investors seeking to participate in the company.
Livento Revenue
As the advisor Livento is paid in shares, a monthly management retainer and success fees. Livento's source of revenue moving forward post-listing will stem from a Management Service Agreement, a pivotal component of its business strategy. This agreement, currently in the final stages of negotiation, will be structured based on a percentage of GDL's overall value. Livento's dedicated team is working diligently to ensure that the terms and conditions of this agreement are solidified prior to the IPO, aiming to create a strong foundation for their revenue generation. With the inclusion of the two initial acquisitions, Livento confidently anticipates a substantial boost in its annual revenue, ranging from $1 million to $1.5 million.
In addition to the Management Service Agreement, Livento has strategically positioned itself to benefit from a secondary revenue stream driven by EBITDA and underlying revenues. By leveraging the commitment of Livento, GDL aims to witness remarkable progress, aiming to achieve an impressive annual combined revenue across the acquired companies of approximately $150 million within the next 12 to 15 months. Furthermore, this growth is expected to be accompanied by an EBITDA range of $9 to $14 million, highlighting the strong financial performance and profitability of GDL.
It is worth noting that Livento holds a 15% ownership stake in GDL, making them a significant shareholder in the company. This ownership position not only allows Livento to participate in the increase of GDL's share price but also enables them to benefit from a percentage share in GDL's EBITDA. This dual revenue stream provides Livento with a solid foundation for sustainable and profitable growth, ultimately delivering value to both shareholders and partners.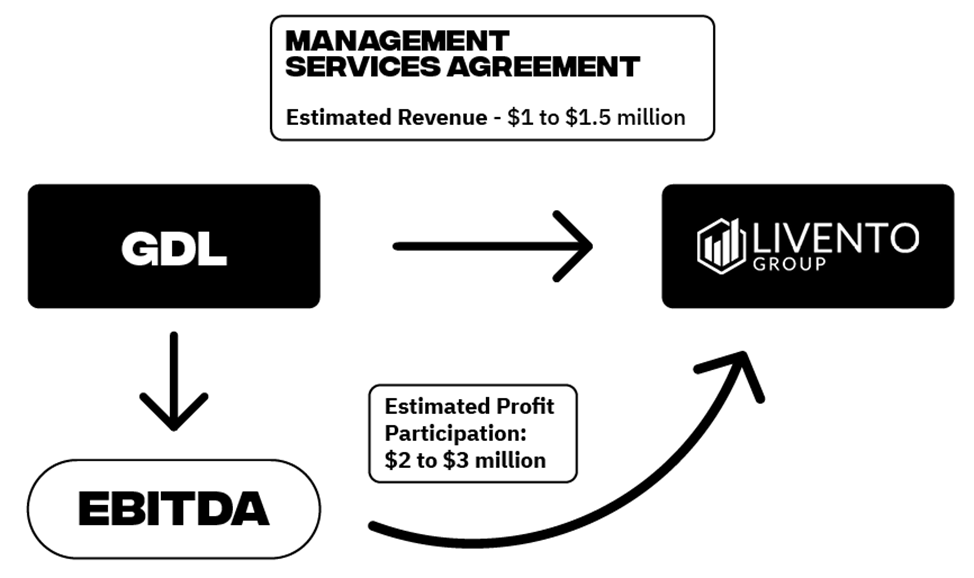 Reflecting on the progress achieved by the Livento team, David Stybr, the CEO of Livento Group Inc., expressed his excitement, stating, "This project is delivering great value for our shareholders and partners. We are thrilled with the significant progress our team has made. Livento revenue combined should reach $2 to $3 million annually within 12 to 15 months without considering the change in share value of GDL. We are confident that our strategic initiatives will continue to drive success and create a prosperous future for Livento."
About Livento Group
Livento Group (OTC Pink: NUGN) is focused on acquiring and developing companies with disruptive business models. The company recently launched BOXO Productions, a film and television production subsidiary led by a top actor and producers in the industry. For more information, visit www.liventogroup.com and www.boxoproductions.com.
Safe Harbor Statement
This release contains forward-looking statements within the meaning of the Private Securities Litigation Reform Act of 1995. You can identify these statements as predictions, projections, or references to future events and expectations, possibilities, or similar. Forward-looking statements involve risks and uncertainties that could cause results to differ materially from those projected or anticipated. Although the Company believes the expectations reflected in our forward-looking statements are based on reasonable assumptions, the Company is unable to give any assurance that its expectations will be attained due to several variable factors. Factors or events that could cause actual results to differ may emerge, and it is impossible for the Company to predict all of them. Some of these risks and uncertainties include, but are not limited to, general economic and business conditions, effects of continued geopolitical unrest and regional conflicts, in customer order patterns, changes in consumer trends, and various other factors beyond the Company's control. Although the Company intends to provide public updates, it undertakes no obligation to publicly update any forward-looking statement, whether as a result of new information, future developments or otherwise, except as may be required by law.
Contact
David Stybr, CEO
Livento Group, Inc.
Livento Group | LinkedIn | Twitter
Boxo Productions | LinkedIn | Twitter | Instagram | Facebook